We are thrilled to have so many opportunities for students to get involved with Hillel UW. This includes our many leadership opportunities.
There are so many ways to get further involved with the inner workings of Hillel UW. We'd love to have you be a part of the team. Here are a few options. Let us know if you're interested, and contact our Undergrad Director if you have questions.
---
Student Leadership Board
Click here if you are interested in joining our 2020-2021 Student Leadership Board!
Student leaders have the opportunity to shape the community, while organizing fun and meaningful opportunities for their friends.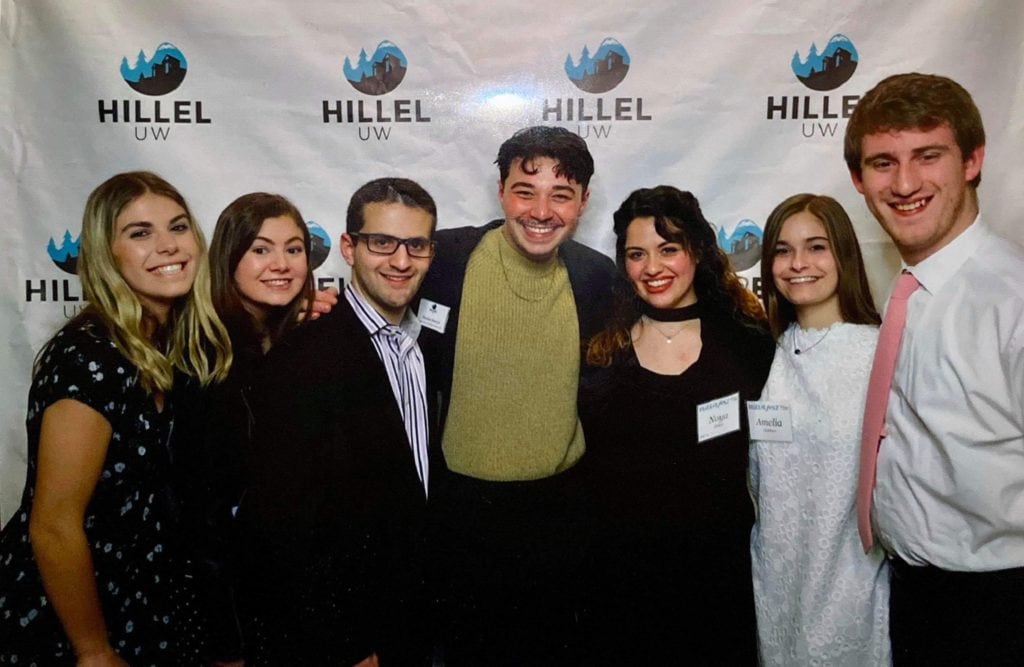 2019-2020 Hillel UW Student Leadership Board left to right
Nicole Pinkus, Executive Chair ('20)
Gabby Vanderlann, Jewish Learning Chair, ('22)
Binyomin Levin, Shabbat Chair, ('20)
Hunter, Director of Student Life
Noya Dolev, Israel Chair ('20)
Amelia Nathan, Social Just Chair ('22)
Yuval Berenstein, Interfaith Chair ('21)
Not pictured: Talya Gilboa, Social Media Chair ('20)
---
Paid Development Internship
Two paid Development Internships at Hillel UW during the 2020-2021 school year
Hillel UW is looking for two interns for the 2020-2021 School Year!  If you are passionate about Hillel UW and want to help ensure the financial health of the organization, consider an internship with Hillel UW's Director of Development, Terri Green.  The interns work at Hillel six flexible hours a week and are compensated $3,000 for the full school year ($1,000 at the end of each quarter).
Additional information about the two internships and the short application can be found here..  Application Deadline May 27, 2020.
Please email Hillel's Director of Development, Terri Green at terri@hilleluw.org if you have any questions.
---
Hillel's Cafe LeVine + Front Desk
Not hiring at this time.
Hillel UW Café LeVine
If you enjoy feeding people, creating a warm and inviting atmosphere, and love keeping a kitchen space clean, this is the job for you! A typical shift in the café includes answering the doorbell and letting people into the building for yoga classes or other events, greeting them and helping them figure out where to go. You will be responsible for keeping the area behind the café clean and organized (dishwashing included!), and offer snacks and coffee/tea/hot chocolate to students who are hanging out. You will enjoy organizing everything from paper products and snacks to the craft supplies, and will let your supervisor know when supplies are running low. Your job is to keep the space neat, tidy and welcoming. You will be responsible for ensuring the building is empty before you lock up at 9:00 pm.
This position is Monday, Tuesday, Wednesday and Thursday evenings from 4:00-9:00 pm. You may apply for one or more evenings.
Hillel UW Front Desk
You are the Director of First Impressions when you sit at our Front Desk! A typical shift includes answering the phone, welcoming people into the building, organizing our copy room and letting us know if we are running low on supplies, keeping the reception area clean and helping with mailings. You may be asked to work on any number of given projects – computer or otherwise – from the admin or program team. One minute you are dusting the computers, and the next you are making coffee for a donor or giving a tour of the building to a perspective student. Every day is different, fun and interesting!
This position is Monday-Friday, 9:00 am-1:00 pm. We will be hiring 4-5 students to work these 20 hours depending on school schedules.
What you'll get in return:
• Hillel staff committed to helping you succeed;
• Skills and experience to add to your resume; and
• $14/hour