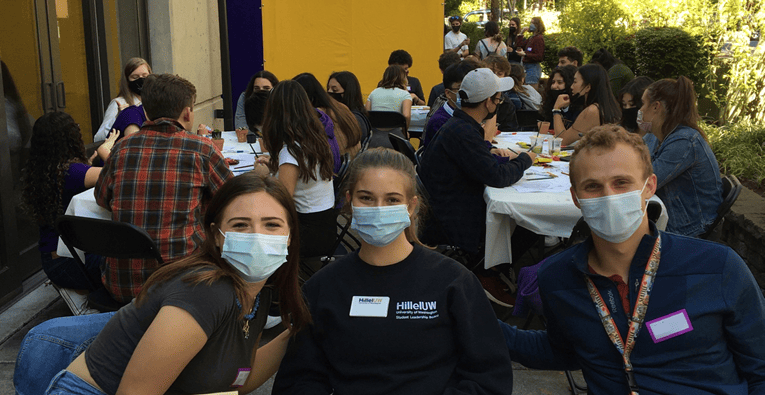 Despite unprecedented challenges and Zoom fatigue, Hillel UW successfully minimized pandemic-related disruptions, strengthened our core community, and maintained essential connections around Jewish knowledge and traditions for students and young adults in the Seattle community.
Being a highly adaptive organization, we safely engaged hundreds of Jewish undergraduate students and "20-30 somethings" (Jconnectors). Our a la carte offerings of Shabbat dinners to go, wellness walks, Jewish learning with our Rabbi, a variety of social gatherings and programs via Zoom, as well as a few outdoor environmental and holiday related programs nourished bodies and spirits.
Last year 900 Jewish young adults participated in our undergraduate and Jconnect programs and 200 of these young adults participated in six or more programs (a measure of "depth" success).
Now, through effective safety measures and diligent mask-wearing, we have been able to host in-person High Holiday programs, Shabbat services and dinners, weekly Bagel Clubs, as well as many other programs that reflect both core offerings and new student-led initiatives. It has been incredible to see our students gather together.  Hillel is again filled with music, joy, good food, conversation, and learning.
We couldn't have predicted the record number of students showing up this year.  Hundreds of Jewish young adults, eager for community, are participating in Hillel's programs.
These programs are only possible thanks to continued support from individual donors like you.
Young Jewish adults enrich all of our programs with their excited participation, warm spirit and motivated leadership.  Our high-quality programs, however, are costly to produce.
Your tax-deductible donation to support Hillel UW could:
$180 pays for five students to attend a weekly Shabbat
$360 funds a Havdalah service, music and dessert
$720 ensure year round opportunities for study, critical thinking and Jewish learning
$1,000 underwrites the cost of food for a Shabbat dinner
$2,500 funds a weekend Shabbaton retreat
There are many ways to support Hillel UW
Stay connected.
Join us for the High Holidays, Passover, and other community events. Learn about these and keep up with Hillel UW by liking our Facebook page and signing up for our community email newsletter.
Planning to be in the area? Contact us ahead of time to arrange for a tour of the Karen Mayers Gamoran Family Center for Jewish Life and a coffee with Terri.
Thank you for supporting Hillel at the University of Washington!