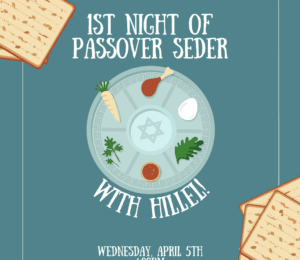 Wednesday, April 05
5:30pm to 8:30pm
Hillel UW
4745 17th Ave NE
Seattle WA 98105
Celebrate the first night of Passover with Hillel! We're going to tell the story of Passover while enjoying a delicious Passover dinner! RSVP REQUIRED ahead of time so we have enough food and seats for everyone!
This seder is for undergrads. If you are a grad student looking for a seder, please click here for the Jconnect seder for graduate students and young adults!
5:30pm - Doors open
6:00pm - Seder begins
Menu to come.
Please reach out to Ellie if you have any questions!