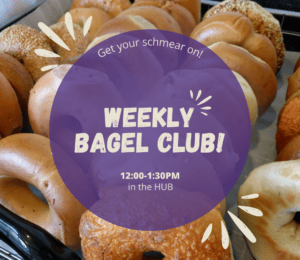 Monday, October 03
12:00pm to 1:30pm
Come get your 'schmear on every Monday from 12:00-1:30pm! Start your week off right with your friends from Hillel, and join other Jewish students on campus for bagels and cream cheese.
You are welcome to make a quick stop over, or stay the whole time! Looking forward to meeting or catching up!
*campus location subject to change due to weather/covid restrictions
Please reach out to Ellie (ellie@hilleluw.org) or via Instagram (@huskyhillel) if you are having trouble finding us!