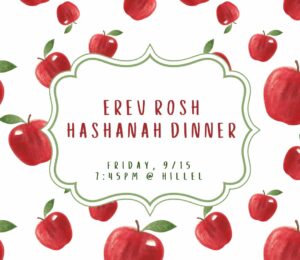 Friday, September 15
7:45pm to 8:45pm
Hillel UW
4745 17th Ave NE
Seattle WA 98105
Whether you join us for Erev Rosh Hashanah services or not, all are welcome to come to our Erev Rosh Hashanah Shabbat dinner. Erev Rosh Hashanah dinner is only open to undergraduate students and Jconnect members. If you are a member of Jconnect, please sign up on the Jconnect website.
Menu: honey mustard chicken (vegetarian: quinoa stuffed acorn squash), roasted potatoes, green beans, mixed green salad with pomegranate dressing, and Leah's famous apple cake for dessert!
Please reach out to Ellie if you have any questions!