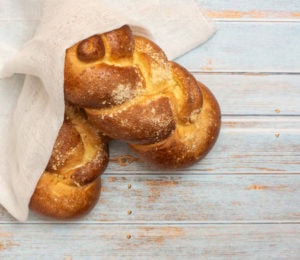 Friday, October 23
6:00pm to 7:00pm
Shabbat this year is going to look a little different but fret not! We will be offering some of the same kinds of things pre-COVID-19 with some slight modifications to keep you and staff healthy! Check them out below!
Online Schmoozing and Singing, 6:00 - 7:00 pm, Fridays
Tune in to the Zoom link sent to you upon registering and join fellow students in welcoming in Shabbat! Blessings, singing, connecting, and camaraderie abound!
Shabbags, pick up 11:00 am-2:00 pm,  Fridays
Shabbags are our Shabbat-to-go option! In the past, we would have Shabbags about once a month, but now this model helps get food and supplies safely to you!*  RSVP each week by Thursday at 5pm!
What's in the Shabbag?
A Shabbat meal to-go* made in our Kosher Va'ad supervised kitchen
Shabbat tea candles and matches
Grape juice for Kiddush
Challah for motzi
Prayer cards and a Shabbat thought
This year we're excited to introduce our reusable canvas Shabbag totes! SO, once you receive your Shabbag, bring it back for the next week! Reuse, reduce, recycle - as they say!
*Menus posted each week on social media:  Facebook, Instagram and Snapchat.  Staff and students are required to adhere to CDC guidelines and will need to wear a mask and be socially distanced during the pick-up times!