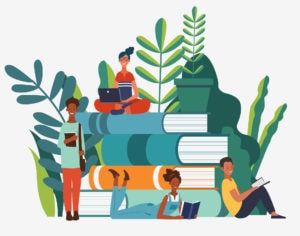 The Jewish Learning Fellowship (JLF) is a nine-week experiential seminar for undergraduates looking to deepen their understanding of Judaism on their own terms while making friends and having fun.
While we will pose big questions about life, we don't purport to have any of the answers. We make no claims about the "right" way to practice or not to practice Judaism. Our job is to provide you time and space to consider the questions and find your own place.
In addition, we will nourish you (dinner will be served!) and value your time (after completion of the program you will receive a stipend).
In 2021-2022, we are offering three JLF opportunities so you can choose the quarter that works best for you! Applications are accepted on a rolling basis. Click here to jump to how to apply.
FAQ
When does the fellowship meet?
Each fellowship runs for nine weeks and meets in person on a weekday evening at Hillel UW (4745 17th Ave NE). The experience concludes with a special Shabbat gathering on a Friday evening toward the end of the quarter. Fellows are required to attend and participate attentively in all sessions and the Shabbat gathering to receive a stipend.
How many fellows are there?
Each seminar will have approximately 10-15 fellows.
Is there homework? Will this cause me more stress?
There is no homework. And students report that JLF is a break from the stress of school and work, not an added burden.
​Who is eligible to apply?
Current undergraduates are invited to apply. No previous formal Jewish learning experience is necessary. JLF is open to students from a wide variety of Jewish backgrounds, expressions, and experiences!
Can I apply if I have already participated in JLF?
Returning fellows are welcome to apply, though first-time participants will be given priority. 
Did you mention a stipend?
First-time fellows earn a $300 stipend at the end of the quarter. Returning fellows receive a $150 stipend.
Can I do JLF virtually?
In 2021-2022, JLF will be offered in-person, although we reserve the right to move to an online format in the case of inclement weather or a public health crisis.
What do past participants say about the program?
"JLF is a great opportunity to further your Jewish education in a fun, informative, and new environment. I found myself exploring topics and issues that were not previously covered in Jewish education and texts that allowed me to further connect to my Judaism." – Dylan H.
 "JLF has been a really great learning experience … I enjoyed reading the texts each week and seeing the connection to my own real life, as well as leaving each session with things to keep in mind." – Sophia
Who do I contact with any questions or concerns?
Contact Rabbi Lauren Kurland, Hillel UW's Senior Jewish Educator, to speak more about the fellowship.
How to apply:
Spring 2022: Sex, Love and Romance – SORRY, THIS SESSION IS FULL & WE ARE NO LONGER ACCEPTING APPLICATIONS; Email rabbikurland@hilleluw.org to be put on a waitlist.
What's sex got to do with being Jewish? How does Judaism understand gender, sexual agency, and stereotypes? How might Judaism be at the table when I am making decisions about sex and intimacy? (Open to all gender identities and sexualities. Open to both new students as well as students who have previously participated in LBQ.) 
Applications

are accepted on a

rolling basis until Friday, April 1, 2022

.

Note that a brief informal interview is required before the first class session.
Session meeting dates:

Dinner will be served for all from 5:15-6:00 pm; sessions run from 6:00-7:30 pm.
Sessions will run from Wednesday, April 6-Wednesday, June 1, 2022
Shabbat gathering date: Friday, April 29, 2022, 6:00 pm