Welcome and thank you to this wonderful team of students.
Danielle Hamer: Board Chair
I am so thrilled to be the Hillel UW leadership board chair this year! I am a senior and International Political Economy major from the Bay Area. Outside of Hillel, I am involved in UW Leaders, J Street U UW, The Daily, and Offleash News. I have great love for watching comedy, writing all sorts of things, eating chocolate, and taking time to drink coffee and laugh with my friends. My years of involvement in Hillel and leadership since I began at UW have pulled me into an amazing community of people who care deeply about Judaism, social action, community development, and more. As this year's student leadership board chair, I will oversee and support the committee chairpeople that make up the Hillel leadership team. I plan to develop the skills of these committee heads in order to create and foster involvement in different committees that strive to represent the UW Jewish community. I believe there is great leadership potential for everyone in Hillel, and I am so excited to foster that, as the role of the students grows within our organization year after year. My goal is to teach the necessary tools for each executive leader to confidently create programs that appeal to a diverse, multifaceted community of Jewish individuals on campus. In addition, it is my hope to increase public knowledge throughout campus to communicate the myriad special things that Hillel provides and stands for.
Tamar Leveson: Jewish Learning Committee Chair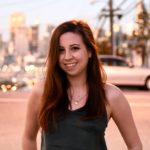 I'm Tamar and I'm a senior at UW majoring in English Literature and minoring in Music! I am involved in Sigma Kappa sorority and Rainy Dawg Radio on campus. When I graduate UW, I hope to attend rabbinical school to become a cantor and put my love of music and Jewish song to good use! I'm excited to be the Jewish Life and Learning Chair this year and can't wait to bring programs centered on Jewish learning and values to our UW Hillel community. I can't wait to plan events that make Judaism and its life lessons accessible to UW students from all backgrounds. If you want to play guitar and praise HaShem, I'm your girl!
Shana Edouard: Shabbat Committee Chair
Hi there! My name is Shana Edouard and I am an Earth and Space Sciences student at University of Washington. This year will be my third year and I'm very excited to join the Student Leadership Board here at Hillel! I was born in California but since I was a military brat growing up, I've lived in multiple places such as North Carolina and Spain. Due to military life, I really love to travel! I also love performing arts and am involved in Unleashed! Acapella and LUX Film Production here at UW. I couldn't be more thrilled to be one of your Shabbat Committee Co-Chairs this year! As a Shabbat Committee Co-Chair, I will be working with Rachel to create lively and uplifting Shabbat services every week for everyone! I will work to continue creating the fun and inclusive environment of Friday evening services and I am hoping to expand and incorporate a variety of Jewish Shabbat services throughout the year. I cannot wait to meet all of you and reconnect with those returning this year!
Jeremy Voss: Israel Committee Chair 

I am a junior studying Computer Science, Near Eastern Language & Civilizations, and Jewish Studies. I lived in South Seattle's Orthodox community since I was three, attending the Seattle Hebrew Academy, Northwest Yeshiva High School, and Mercer Island High School. Participating in Hillel UW for the last two years has introduced me to many fantastic people, ideas, and perspectives I would have not otherwise known or experienced. I see Hillel as a place all Jews should be able to call home as I do. Along with Olga Laskin and the rest of the Israel committee, I look forward to organizing educational events about the many cultures of Israeli society and the issues they currently face. I have heard from many students that they feel the need to learn much more about this small, yet complicated country. I think, together, we can do just that. I will also be serving as a Co-Chair for J Street U at UW and the External Affairs Director for Young Democrats of UW.
Gabe Adler: Social Justice Committee Chair
I'm Gabe Adler, a junior and Creative Writing & LSJ major, from Savannah, Georgia. I work for The Daily and participated in The Dream Project. I love dad jokes, photography, sports, and Spongebob. My Hillel role is Social Justice Committee (Co) Chair, which could involve anything and everything from volunteer opportunities to creating new partnerships between Hillel and other organizations whose goals align with ours. My first goal I have for my role this year is to help Hillel and our board see social justice as something with endless possibilities. My second goal is to take those possibilities, and to turn them into quality events and programs that attract people to participate and bring their friends.
Abby Adelman: Social Justice Committee Chair 

I am so excited to be serving as one of Hillel's co-Social Justice Chairs. I am currently a sophomore hoping to major in biology (physiology) on the pre-med track. I grew up in Scottsdale, AZ and spent the last 13 summers at Camp Daisy and Hairy Stein in Northern Arizona. As a participant and then leader in NFTY, the reform Jewish teen movement, I cultivated a passion for working with kids especially in Title I schools with the Swift Youth Foundation. This year as Social Justice Chair, I want to explore many different social justice and social action programs in hopes of helping each individual find what they are passionate about. I want to incorporate social justice aspects into as many Hillel events as possible whether it be small or large. I strongly believe that everyone has it in them to leave their mark on this world.
Lily Rosencrantz: Outreach Committee Chair
Hello! I am a senior working towards a double-degree in Human Centered Design and Engineering, and Jewish Studies. I grew up in Seattle, just across the Montlake cut, and have a lot of love for this amazing city. This year I am excited to be starting a new Hebrew Conversation club on campus, as I love the Hebrew language and am trying to improve my skills. I am also passionate about knitting, and recently knitted my first sweater! As the Inclusion Chair at Hillel this year I will work to bring in new faces to the Hillel community, and increase involvement within the UW Jewish community. I want to make sure that Hillel's building and events are inclusive and accessible, and make everyone who comes feel welcomed and comfortable. In this role I will strive to find and engage the Jewish students on campus who do not realize they have Hillel as both a religious and social resource. I also want the students who come to Hillel regularly to keep coming, and plan to do this by learning what it is that draws them to Hillel and ensuring those things continue to happen. I am excited for the year ahead, and hope to share my love of Hillel and Judaism with many more of my husky peers!
Sam Eden: Community Building Committee Chair 

Hey pals! I'm Sam, and I am your Community Building Committee Chair! I am a sophomore, intending to major in Law, Societies, and Justice, and in the Interdisciplinary Honors program. After becoming involved last year with Hillel, I developed an amazing community of friends. I grew up at a reform synagogue in southern California and was president of the youth group there. I am passionate about civil rights, the beach, dogs, friends, and family. I am so excited to contribute to the wonderful and inclusive community that Hillel is. Two goals I have for the Community Building Committee Chair is to ensure that every student involved or becoming involved with Hillel feels included, passionate, and proud of our Hillel community and that each member of the Community Building Committee has the opportunity to plan and implement a Hillel community event they are excited about! So excited to have a great year with you all!
If you have questions or are interested in our student internship program, please contact our Undergrad Director!