This is a three-session learning cohort.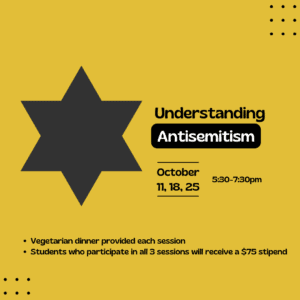 In 2021, one in four American Jews experienced antisemitism.* In person and online antisemitic remarks, false claims of Jews fomenting a "replacement theory" in America, and acts of violence against Jews are on the rise in the United States.
Antisemitism is not a new problem. To better understand the roots and causes of antisemitism and become better allies, explore the history and context of past and present manifestations of antisemitism in a three-session series at Hillel that will cover:
What is Judaism? Who are Jews?
History of antisemitism
Antisemitism today
This series is not an academic course, and there is no homework.
Since your time is valuable, a vegetarian dinner will be provided each session, and all students who attend and actively participate in all three sessions will receive a $75 stipend.
In 2023, sessions meet from 5:30-7:30 pm at Hillel UW (4745 17th Ave NE) on Wednesdays, October 11, October 18, and October 25.
All UW undergraduates are welcome. No Jewish background or experience with Hillel are necessary.
Space is limited, so sign up early!
Register here. With questions, please contact Rabbi Lauren.