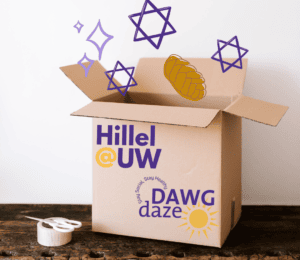 Friday, September 25
11:00am to 1:00pm
Hillel UW
4745 17th Ave NE
Seattle WA 98105
Are you newish and Jewish to UW? We've got you covered with the Hillel UW Starter Pack!  (Returning students are also welcome to come by and pick up all our new SWAG and grab a cupcake, too!)
SIGN UP BELOW and then swing by between 11 and 1 to pick up your box from Hillel Student President Yuval Berenstein and Hillel VP Amelia Nathan! They are excited to meet you and ring in 5781!
What's included?
Honey sticks and an apple-themed Trophy cupcake for a sweet new year,
a Shabbag for future sustainable Shabbat meals,
a Hillel UW facemask to keep you and others safe,
a laptop/ hydroflask sticker to show off your Hillel pride,
a super soft Hillel UW tee shirt,
and more!