Click here to jump to volunteer and other opportunities.
Feel free to email us with any new opportunities.
Community Job Opportunities
Hillel International has a database of opportunities with Hillels around the world.
Check it out here for even more opportunities!
______________________________________________________________________________________________________________________________________
Clark University Hillel is conducting a study on how Jewish Americans (i.e., Jews living in the U.S., regardless of nationality) think about the history of violence against Jews and present-day antisemitism. They are also interested in how this may relate to psychological well-being and health.
They are looking for a broad range of opinions on these issues among Jewish Americans (18 and older) with different backgrounds and diverse political and religious views, and we were hoping some members of Hillel UW or may be willing to participate in the study. It would greatly help them in reaching our research goals and gaining more knowledge about this important topic! The survey is anonymous, completely voluntary, and can be stopped at any point. The survey will take approximately 15 to 20 minutes to complete, and upon completion of the survey participants will be offered $10 as a small token of our appreciation. The survey can be accessed through the following link: https://clarku.qualtrics.com/jfe/form/SV_1G1zOJznBc059Jk
Posted 2/7/23
---
Eden Village West hiring for summer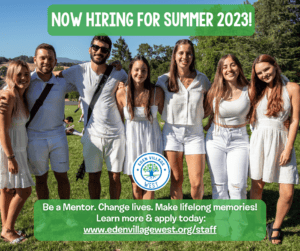 posted 1/30/23
---
Minyan Ohr Chadash is seeking a part-time Office Manager
Minyan Ohr Chadash is a Modern Orthodox, Zionist congregation located in the heart of Seattle's Seward Park neighborhood. MOC is volunteer driven, whose members work together to create a caring and welcoming community. Office manager to work on-site approximately 15 hours a week, ideally three hours a day Monday through Friday but flexible.  Hourly rate is $30 – $35 per hour. More here.
posted 1/30/23
---

From our friends at Camp Kalsman…
Camp Kalsman is a PNW Jewish institution…and they're looking for summer staff!
They are also looking to hire and train a lot of new staff to work their challenge courses and lifeguards at the lake and pool for all of their upcoming spring events.
Click here to fill out interest form. 
Learn more about Camp Kalsman here.
posted 1/5/23
---
Friendship Circle of Washington Volunteer & Program Coordinator
The Friendship Circle of Washington is a nonprofit organization serving children and families with special needs in the King County area. Our programs aim to bridge the gap between special needs and typical youth, empower special needs youth with the skills they need to live a productive and independent adult life, give parents and families much-needed respite, and nurture a sense of awareness and communal responsibility in our teen volunteers. We provide families and children with special needs a caring community where they are understood, appreciated, and embraced.
Friendship Circle is hiring a part-time (20-25 hours per week) or full time Volunteer & Program Coordinator who will hold a variety of critical responsibilities that support the strength of our programs. The Volunteer Coordinator will be the main point of contact for our over 150 teen volunteers, will be present for all programming and will be a pillar of the success of our programs in many ways. This person should feel motivated and excited about working both with youth with special needs and with typical teens in a program setting and be committed to our values of community and inclusion.
Learn more about the position here.
posted 12/27/22
---
Volunteer & Other Opportunities