Welcome to the Hillel UW family!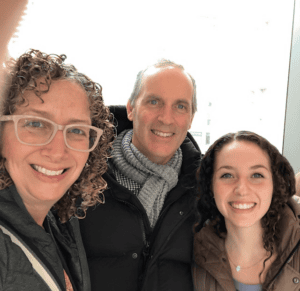 "As parents of a UW senior, we have experienced firsthand the incredible support available to the students and we are so grateful for everything Hillel does. During complete lockdown in 2020, the amazing staff worked tirelessly at keeping the students connected and cared for."
~ Marlo and Bernard Surovsky, Parents of Cayla, UW Class of 2023
---
The college years mark the first time many young Jewish adults are empowered to make critical decisions about their life's Jewish journey. Our Jewish future rests on the ability of our students and young adults to have access to a variety of programs and activities that allow them to chart their own Jewish journey.
Hillel UW is a "home away from home" for many of our students. We celebrate Shabbat and the holidays together, learn together, play together, and work to repair the world together. Hillel UW provides students with free use of our gym, cafe, open study space, and counseling services. We hope you will encourage your child to stop by and get involved.
Stay connected to Hillel UW throughout the year by signing up for our exclusive parent emails. As the parent of a Jewish undergraduate student, we will reach out directly to let you know about events for parents as well as give you a heads up about programs that may be of interest your student. Fill out the form below!
If you would like additional updates and information you are welcome to sign-up for our  community email newsletter.
Hillel UW is a non-profit organization.  We rely on support from individual community members and parents like you to inspire students to explore, embrace and celebrate Jewish life and identity while they are at the University of Washington and other area colleges. Please consider supporting Hillel UW with a recurring donation.
In town for the holidays, graduation, or a special weekend? Check out our calendar of events and join us  or  contact us ahead of time to arrange a tour.