Berol-Shindell Scholarship
We are pleased to inform you of the partial tuition, need-based scholarships that are available for Jewish undergraduates attending the University of Washington. The Berol-Shindell Scholarship has been established at the Hillel Foundation for Jewish Life at the University of Washington.
This scholarship was created when Mr. Berol was forced to forego his studies at the University of Washington to help provide for his family's welfare. The scholarships are, therefore, being offered to undergraduate Jewish students in financial need who plan to attend, or are currently attending, the University of Washington.
Applications will reopen next year.
For more information, email info@hilleluw.org, call us at (206) 527-1997.
---
Hebrew Free Loan Association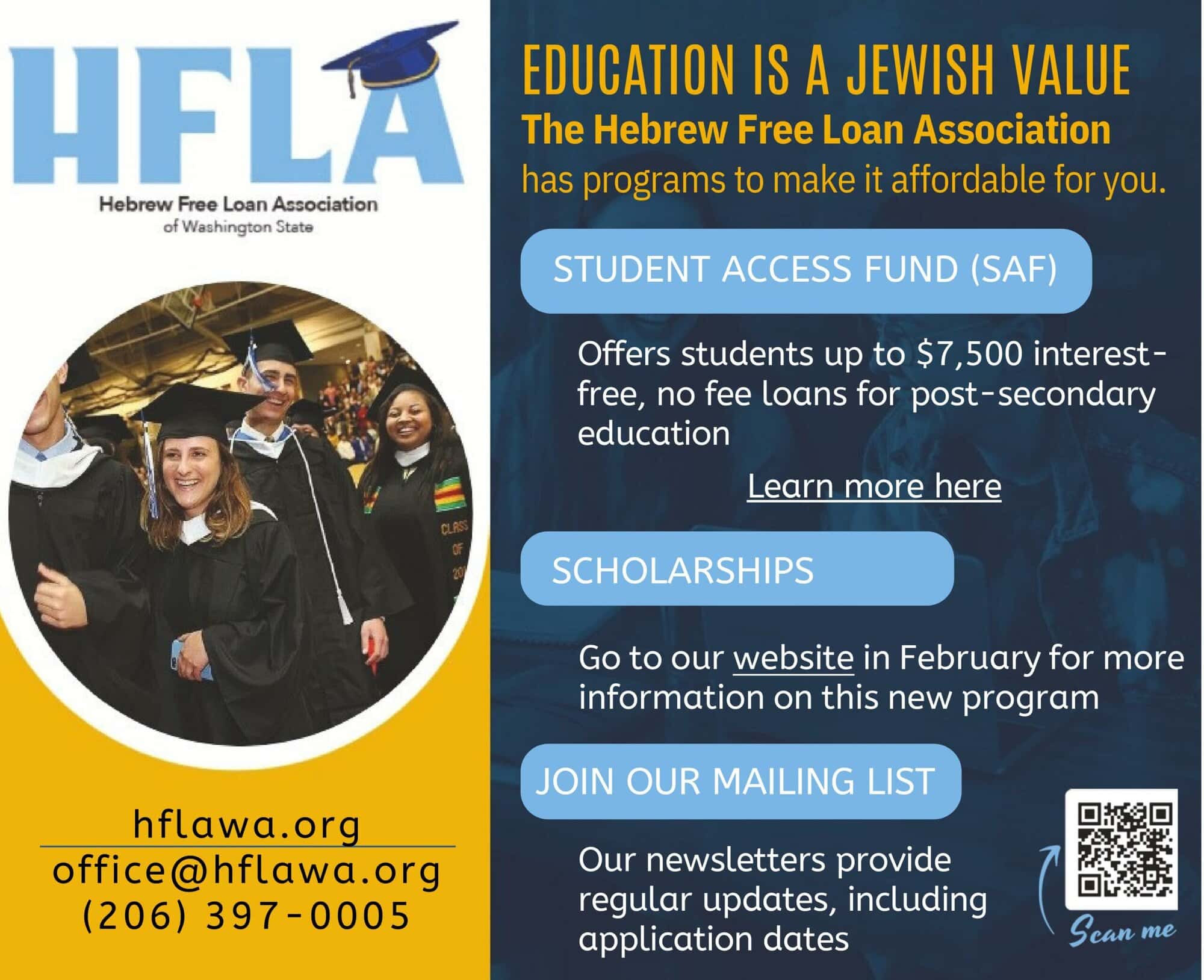 Hebrew Free Loan Association (HFLA) of Washington State will now be offering Scholarships for Jewish students with demonstrated need. They will continue offering the Student Access Fund (SAF) interest-free, no fee loan as well.
Scholarships can be used by students pursuing higher education for bachelors, community college, vocational, or technical degrees while the SAF Loans may be used for any degree, including graduate degrees.
HFLA is dedicated to supporting the Jewish community of Washington State during this time of uncertainty. Loan interviews will be through web conferencing. More than ever, repayment terms will take into consideration the uncertainty of this period of time, and your individual circumstances. We are a safety-net program, not a bank, and our goal is to help you through this time.
Applications for Scholarships will be available April 1 – 30, 2024, and Student Access Fund (SAF) loans will be available May 1 – May 30, 2024
More information, including the application, can be found here.
---
Hillel International Scholarships
Hillel International's mission is to enrich the lives of Jewish students so that they may enrich the Jewish people, and the world. One way in which Hillel fulfills this mission is by helping incoming freshmen and current college students pay for the cost of college.
Scholarships are open to students who identify as Jewish, who are attending or preparing to attend four-year colleges and universities in the U.S. and Canada, and meet the individual scholarship requirements. Learn more here.
---
Leadership 1000 Scholarship
There are 4, four year scholarships for a Washington State resident available for a Jewish Student with significant financial need through College Success Foundation at www.collegesuccessfoundation.org. The application process typically starts in mid-January with applications due mid-March. This is a needs based scholarship. If you qualify, fill out the application and submit. Please email Amee Sherer, our Executive Director, so she can alert the Foundation that you are applying. There is not a way to designate yourself as Jewish on the application.
---
Rashkov Scholarship 
Student Training & Education in Public Service (STEPS) Scholarships and Grants for Jewish Students
From academic resources and Jewish advocacy to financial aid and public service scholarships, get the help you need to pay for college, find success in the classroom, and turn your degree into a rewarding career. Click here to learn more.
---
Other Resources:
theWashBoard.org
The Henry M. Jackson School of International Studies
UW Jewish Studies Department
UW Undergraduate Scholarship Office
Jewish Federation ‎