Hillel UW was the first Hillel in the country to offer a counseling program to serve Jewish undergraduate and graduate students.
Meet our full-time counselor, Sheri Davis: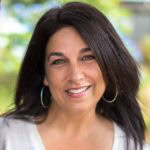 Sheri is a licensed clinical social worker with over 18 years of experience as a counselor working with adolescents, undergraduate and graduate students. For the past 8 years she has been a counselor at the UW School of Medicine providing counseling and wellness programming for medical students and Rehab Medicine graduate students. She has her BA in Psychology from the University of Southern California and her Masters in Social Work from the University of Washington. As a native Seattleite, she is both a Husky fan and a Trojan fan – although it is a bit difficult when the two schools play each other. Sheri has many connections with the Jewish community in the Seattle area and has enjoyed coming to Hillel over the past few years for Passover lunches, B'nai mitzvah services, and other community events. Sheri is the proud mom of two college age daughters and enjoys time with her family, getting outside in the beautiful PNW, exploring independent bookstores, and going to outdoor music festivals.
To set-up an initial counseling session, or if you have questions about the Hillel counseling program, please email Sheri at counselor@hilleluw.org.
Hillel counseling services are:
Confidential and affordable.  We do our best to work with each client who would benefit from our services so cost is not a barrier, and the initial hourly rate for students is $10
Because of Covid-19, our 50-minute counseling sessions can occur online through a confidential and remote telehealth platform, or even on a walk together, weather permitting.
Our counselor is available to see clients Monday through Friday.
Available to Jewish undergraduate and graduate students.  Referrals also available for young adults who are part of our Jconnect community.
Short- or long-term as needed
Counseling can help you navigate life's twists and turns. You may find one-on-one counseling helpful for:
• Anxiety
• Depression
• Relationships
• Interfaith dating
• LGBTQ, coming out and gender identity issues
• Eating and body image issues
• Substance abuse and recovery
• Pre-marital concerns
• Grief and loss
• Violence and abuse
• Job-related concerns
• Jewish identity issues
If you are looking for additional counseling resources, this list may be a helpful place to start:
The Hillel Counseling Program is a joint project of Hillel UW and Jewish Family Service.