Hillel UW was the first Hillel in the country to offer a counseling program to serve Jewish undergraduate and graduate students.
Meet our counselor, Orliyah Finnegan: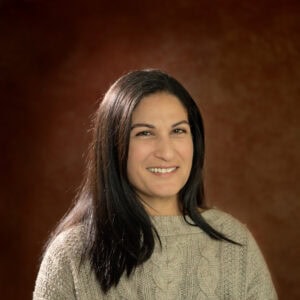 Orliyah is a licensed Marriage and Family Therapist (LMFT) with 18 years of experience as a psychotherapist working with adolescents and their families. She is a Certified Clinical Anxiety Treatment Professional (CCATP) as well as a nationally registered Art Therapist (AT-R). Since 2004, she has practiced in non-profit setting serving low-income families of Downtown Los Angeles and Brooklyn, NY. By 2012, she had settled into private practice where she saw clients ranging in age from 5 to 75. She holds three permanent licenses to practice in CA, NY and WA state. She has her BA in English with a minor in Biology from the University of California Riverside and her Masters in Psychology from Phillips Graduate University of California. Orliyah lives in Kirkland, WA with her three children, her husband, and their German Shepherd dog, Baxter. She enjoys time with her family, getting outside in the beautiful PNW, skiing/snowboarding in the winters, summer concerts in the park and Shabbat Fridays with her family. To learn about her therapeutic techniques, you can read more about her at her website.
To set-up an initial counseling session, or if you have questions about the Hillel counseling program, please email Orliyah at counselor@hilleluw.org.
Hillel counseling services are:
Confidential and affordable.  We do our best to work with each client who would benefit from our services so cost is not a barrier, and the initial hourly rate for students is $10
Our counselor is available to see clients on Tuesdays and Thursdays, for both in-person or telehealth sessions.
Available to Jewish undergraduate and graduate students at a rate of $10-$40.  Referrals also available for young adults who are part of our Jconnect community.
Short- or long-term as needed
Counseling can help you navigate life's twists and turns. You may find one-on-one counseling helpful for:
• Anxiety
• Depression
• Relationships
• Interfaith dating
• LGBTQ, coming out and gender identity issues
• Eating and body image issues
• Substance abuse and recovery
• Pre-marital concerns
• Grief and loss
• Violence and abuse
• Job-related concerns
• Jewish identity issues
If you are looking for additional counseling resources, this list may be a helpful place to start: