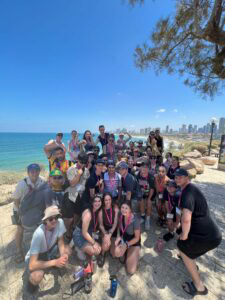 Dreaming about sunsets over the Mediterranean, snorkeling in the Red Sea, and trying delicious Israeli foods with your best friends by your side? We're ready to make sure you have the opportunity of a lifetime! 🤩 🏖 🌅
Why go with Hillel UW?
We focus on YOU. This trip is curated for UW students and the UW experience. You get to travel with other UW students and Hillel staff to make for the best possible experience both on and after the trip. We like to say the trip is just the beginning!
Birthright Israel is a not-for-profit organization providing the gift of  a 10 day educational group trip to Israel for Jewish young adults between the ages of 18 to 26. Today, Birthright Israel is the largest educational tourism organization in the world that has given over 750,000 journeys to the magical state of Israel.
Here's a sample trip itinerary!
Want to know more? Check out the trip's FAQ here.
Register here: http://freeisraeltrip.org/uwash
If you have any questions about the trip, email Ellie!
This trip is a gift from Birthright Israel. Taglit-Birthright Israel is an innovative partnership between the people of Israel through the Government of Israel, private philanthropists through the Birthright Israel Foundation and Jewish communities around the world (North American Jewish Federations, Keren Hayesod, and the Jewish Agency for Israel).