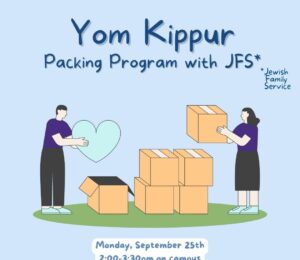 Monday, September 25
2:00pm to 3:30pm
Hillel UW
4745 17th Ave NE
Seattle WA 98105
On Yom Kippur, we are implored to help others through tzedakah, or righteous acts. To that end, Jews are encouraged to make donations in honor of the holiday and many communities run food drives on Yom Kippur. This year, Hillel UW will be sponsoring a packing program on campus in partnership with JFS (Jewish Family Services). We will be making hygiene kits, snack kits, and holiday cards. 
**This event will now be at Hillel due to the weather forecasted for Monday**
Reach out to Ellie if you have any questions!