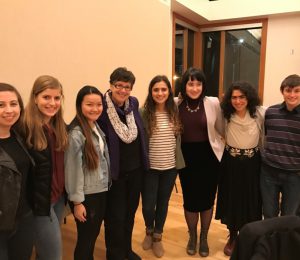 Thursday, June 08
6:30pm to 8:00pm
Hillel UW
4745 17th Ave NE
Seattle WA 98105
We're celebrating a year of strengthening our footprint on campus and in the community!
Please join us as we thank all of our leaders, volunteers, supporters, and staff who enabled Hillel UW and Jconnect to have an amazing year:
· Jonathan Schwartz for his two-year term as Board President;
· Jon Newman as our new Board President; and
· Departing staff and trustees for their service to Hillel.
Reception
6:30 - 7:00 p.m.
Light Dinner & Drinks
~
Program
7:00 - 8:00 p.m.
Current President's Welcoming Remarks
Greenstein Family Executive Director's Reflections
Nachshon Awards & Pruzan Fellow Presentation
Incoming President's Closing Remarks
~
Suggested Donation
Community Members: $18
Jconnectors: $10
Students: Free
RSVP here
or call (206) 527-1997 by Tuesday, June 6
ALL ARE WELCOME!
If you have questions, please contact Terri Green, Director of Development, (206) 527-1997, terri@hilleluw.org