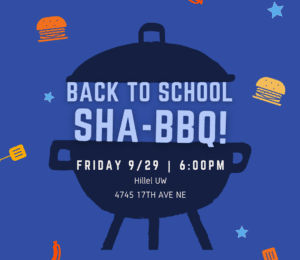 Friday, September 29
6:00pm to 8:00pm
Hillel UW
4745 17th Ave NE
Seattle WA 98105
The 2023-2024 school year is upon us and we are so excited to welcome all returning students and new students to Hillel! We're kicking off the school year with a Shabbat BBQ filled with outdoor games, delicious food, and good company.
*Sha-BBQ will be outside if weather permits
Menu: challah, hamburgers (meat + vegan option), hot dogs (meat + vegan option), all the fixins, coleslaw, potato salad, watermelon and strawberries, potato chips, chocolate chip cookies.
Reach out to Ellie if you have any questions!