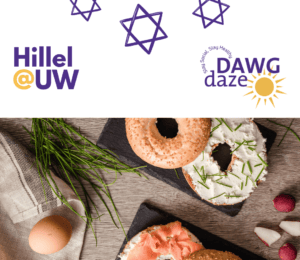 Monday, September 28
3:00pm to 5:00pm
Hillel UW
4745 17th Ave NE
Seattle WA 98105
As part of our High Holiday Programming this year, we are pleased to offer students  a FREE Break Fast in a Box! Each box is intended for one person.
All meals are prepared by Leah's Catering under the supervision of the Va'ad HaRabanim of Greater Seattle.
What's in the Box?
1 Bagel, Rolled Lox, Cream Cheese, Tomato and Cucumber
2 Hard Boiled Eggs, Salt and Pepper Packets
Dairy Sweet Noodle Kugel
Fruit Salad Cup
Chocolate Brownie
***********************
Orders must be received by noon on Friday, September 25, and will be filled on a first-come, first-served basis until we are out.
Meals must be picked up at Hillel UW between 3:00 – 5:00 pm on Monday, September 28.
Pick-up instructions will be sent to you with your online receipt.
Due to these unusual times, we are not able to offer any food substitutions or flexibility in pick-up time.