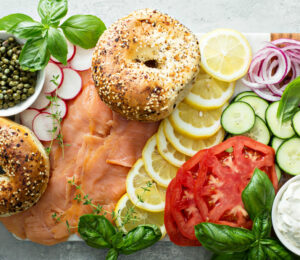 Thursday, September 16
2:00pm to 4:00pm
Hillel UW
4745 17th Ave NE
Seattle WA 98105
As part of our High Holiday Programming this year, we are pleased to offer students a FREE Break Fast in a Box! Each box is intended for one person.
Please note:  If you are already signed up and plan to join us for Yom Kippur late afternoon and Neilah services, you do NOT need to order a Break Fast in a Box separately - it will be included with your RSVP.
All meals are prepared by Leah's Catering under the supervision of the Va'ad HaRabanim of Greater Seattle.
Menu:
1 Bagel, Rolled Lox, Cream Cheese, Tomato and Cucumber
2 Hard Boiled Eggs, Salt and Pepper Packets
Dairy Sweet Noodle Kugel
Fruit Salad Cup
Honey Cake Cupcakes
***********************
Orders must be received by noon on Monday, September 13th, and will be filled on a first-come, first-served basis until we are sold out.
Pick-up at Hillel UW between 2:00-4:00pm on Thursday, September 16.
More detailed pick-up instructions will be sent to you with your online receipt.
Due to these unusual times, we are not able to offer any food substitutions.  If you are not able to pick up your box during this pick-up time, email Ellie to see what might be possible.