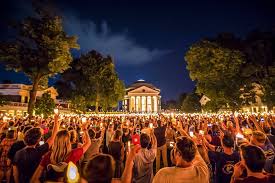 Wednesday, August 05
7:30pm to 8:30pm
The murders of George Floyd, Breonna Taylor, Ahmaud Arbery, Tony McDade, and so many others are the tragic and unsurprising results of a racist and broken system — the same system that fueled Charlottesville, Charleston and the litany of other white supremacist attacks.
Join us for a conversation with Integrity First for America (IFA) Executive Director Amy Spitalnick for an overview of this landmark case and the fight against white supremacy, anti-Semitism, racism, and other forms of hate.
Save your (Zoom) spot for a conversation you won't want to miss.
**********
Integrity First for America (IFA), in partnership with a world-class legal team, is uniquely taking on the neo-Nazis, white supremacists, and hate groups at the center of this violent movement, holding them accountable in federal court for the violence they brought to Charlottesville in 2017.
Integrity First for America (IFA) is a nonpartisan nonprofit organization dedicated to holding those accountable who threaten longstanding principles of our democracy—including our country's commitment to civil rights and equal justice. Registration for this event will be shared for security purposes.