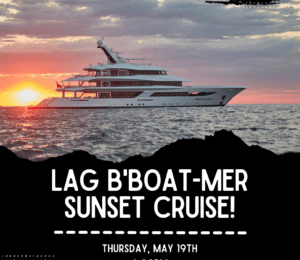 Thursday, May 19
6:00pm to 10:00pm
Enjoy an evening on Lake Union with Hillel UW for a Lag B'Omer ** celebration. There will be dancing, dessert, drinks, and good times. (This event is a dry event.)
(The 70 bus takes you directly from campus to the boat in about 25 minutes!)
Dress in formal attire, and get ready to celebrate an amazing year with Hillel UW!
There are limited spots on the boat, so make sure to reserve your place and rsvp! The event is only $7.00 for fun, fun, fun!
** What is Lag B'Omer? Lag B'Omer is a minor Jewish holiday that occurs on the 33rd day ("Lag" corresponds in Hebrew to the number 33) of the Omer, the 49-day period between Passover and Shavuot. The period of the Omer is considered a time of semi-mourning because, according to legend, a plague killed thousands of Rabbi Akiva's students during that time. However, the legend continues, on the 33rd day of the Omer period, the plague ceased, and so today we celebrate Lag B'Omer with bonfires, picnics, and celebrations!
Boarding begins at 6:30pm at MOHAI off of Lake Union.