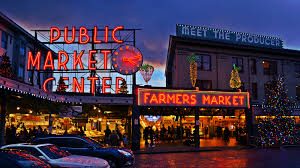 Sunday, November 19
1:00pm to 3:30pm
Husky Stadium Light Rail Station
3720 Montlake Blvd NE
Seattle WA 98105
Join us at the Husky Stadium light rail to hop downtown with your favorite Jews! We will take a nice stroll to Pike Place and embark on an afternoon of food tasting, scavenger hunting, and city exploring.
Bring your pals, join us at the light rail or at Pike Place, and come for as long as you want.
We'll be wrapping up at 3:00 PM at Shug's Soda Fountain and Ice Cream! Single scoop ice cream is on us!