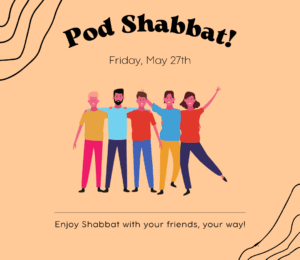 Friday, May 27
2:00pm to 4:00pm
Hillel UW
4745 17th Ave NE
Seattle WA 98105
Looking to celebrate Shabbat with your friends? Pod Shabbat is your opportunity to gather your friends and host Shabbat your way!  Hillel will provide the Shabbat essentials you need (candles, challah, and grape juice, a sheet with all the blessings and a "Taste of Torah" for some conversation starters) and will reimburse you up to $10 per person for dinner at your Pod Shabbat. Order dinner from your favorite spot on the Ave or cook up your favorite dish! Only one person from your "Pod" needs to sign up.
Pick up for your Shabbat items will be on Friday the 27th from 2:00-4:00pm at Hillel.
To receive your reimbursement, you will need to fill out a separate Google Form after your Pod Shabbat Dinner to submit the names/information of everyone who attended your Pod Shabbat, pics from your dinner, and your receipt. The Google Form will be sent out the Monday after Pod Shabbat.
Reach out to Ellie if you have any questions!