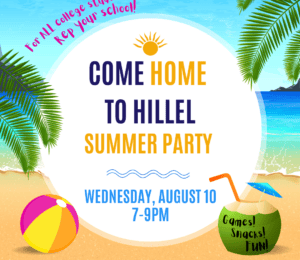 Wednesday, August 10
7:00pm to 9:00pm
Hillel UW
4745 17th Ave NE
Seattle WA 98105
This SUMMER PARTY is for all college students who are in the Seattle area right now, so bring your friends and wear your favorite swag from your school.  Meet new people, see your friends from high school, network, and party!
We'll have games, good music, cake and other delicious refreshments to celebrate our Executive Director Amee's birthday, and lots of other fun surprises (think Hillel International give-aways!)
RSVP below.  The first 25 people to sign up will receive an automatic entry into the raffle for prizes!