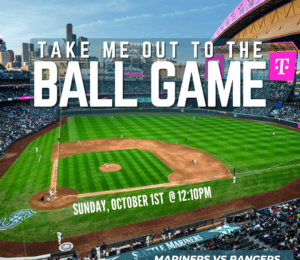 Sunday, October 01
12:00pm to 4:00pm
Hillel UW
4745 17th Ave NE
Seattle WA 98105
Join Hillel for Sunday Funday at the last Mariners game of the season as the Mariners take on the Texas Rangers! Space is limited, so reserve your FREE ticket  - for currently enrolled UW students only -  today! Ellie will forward you your ticket the day before the game.
If you want to take the light rail with Hillel, we will be meeting at the U District Station around 10:30am. If not, we will see you at the game!
*Hillel will cover the cost of your Mariners ticket, but you are responsible for your Light Rail ticket (free with your UW ID) and any food/drinks you purchase at the game.
Please click here to read T-Mobile Park's Gate and Bag Policy before we go.
Reach out to Ellie if you have any questions! ellie@hilleluw.org