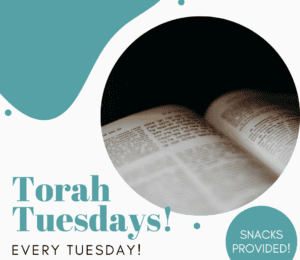 Tuesday, October 26
7:00pm to 8:00pm
Hillel UW
4745 17th Ave NE
Seattle WA 98105
Stop by Hillel on Tuesday nights from 7:00-8:00pm for a dose of Torah and Jewish learning and connect with other Hillel students! Each week we will be diving into a different Jewish topic and taking part in an activity to go with it. Snacks will be provided.
Torah Tuesdays will be led by Rabbi Lauren and Ellie!
Please reach out to Ellie if you have any questions or have an idea for a Torah Tuesday Topic!
Topic Schedule:
10/5
Who was Hillel?
10/12
What is a Shmita year and what does it mean to let the earth rest?
10/19
What does Judaism say about mental health and meditation?
10/26
Monsters, witches, and Golem... oh my!
11/2
Deep dive into the Jewish calendar.
11/9
What are the different cultures of Judaism represented in Israel?
11/16
What is Havdalah and how do you lead it?
11/23
What does Judaism have to say about visiting the sick?
11/30
Jewish Holidays 101: What's the REAL story of Hanukkah?
12/7
How much tzedakah am I supposed to give as a college student?
*topics are subject to change