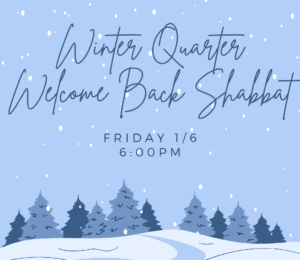 Friday, January 06
6:00pm to 8:00pm
Hillel UW
4745 17th Ave NE
Seattle WA 98105
Welcome back, huskies! We hope that you had a wonderful winter break, and we are looking forward to celebrating Shabbat with everyone once again. Before Shabbat, we'll have a Fridays @ 5:15 musical Shabbat experience.
Menu: challah, matzoh ball soup, potato knishes, salad, cookies and brownies
Reach out to Ellie if you have any questions!