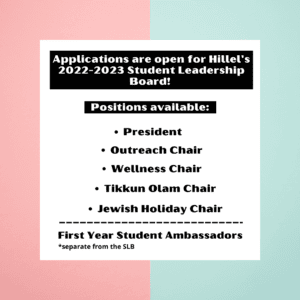 Click here to apply!
Thank you for your interest in Hillel UW's 2022-2023 Student Leadership Board (SLB) and First Year Student Ambassadors! Our student leaders are a core group of students who feel empowered to represent Hillel, are thought partners, and attend and design programming in cooperation with Hillel's program team.
Applications are open now and we will reach out to you to schedule your interview!
As a member of the SLB you will:
Attend bi-weekly meetings

Commit to the yearlong position

Participate in bi-quarterly conversations about calendaring and integrating interests into Hillel's programming

Be present at the fall retreat

Help with Dawg Daze

Take part in a leadership retreat before fall quarter starts
Student Leadership Board:
President

Hillel's RSO representative on campus

Identifies and coordinates professional development opportunities for the SLB

Speaker at HillelFest (Hillel's annual fundraiser)

Creates agendas and runs bi-weekly SLB meetings

Makes Shabbat announcements

Meets with Ellie weekly

Meets with SLB members 1:1 for 15 minutes on off-weeks

Holds the big picture vision for the SLB

Jewish Holiday Chairs

Brainstorm and support programming for High Holidays, Hanukkah, Purim, Passover, etc. 

Incorporate Jewish learning into programming

Help bring holiday celebrations to campus

Tikkun Olam Chair

Coordinate Good Deeds Day

Integrate volunteering opportunities into the calendar

Integrate Tikkun Olam into Jewish holidays/Shabbat/Havdalah programming

Teen Feed

Outreach Chair

Help table on campus

Bagel Club

Reaching out to and connecting with new students after events

Wellness Chair (supervised by Hillel's counselor)

Work with Hillel's counselor to organize wellness events

Tie in wellness with holiday celebrations

Mental Health Awareness month programming
First Year Student Ambassadors 
Work together to create a community and be a mentor for the incoming class of 2026

Help plan one event a month for our freshman cohort

Meet with Ellie a couple times during the summer to start planning for the year

Attend the undergrad retreat

Plan one freshman only event at the retreat

Time commitment: 4-6 hours a month
Rising sophomores preferred